Noble Savage starts up with a logo
Men's care hair products branding take-off
The Belgian Food Company is planning to start a men's hair grooming products line, like wax and pommades to enter the Belgian professional hair dressers market.
The modern myth of the noble savage is most commonly attributed to the 18th-century Enlightenment philosopher Jean Jacques Rousseau. He believed the original "man" was free from sin, appetite or the concept of right and wrong, and that those deemed "savages" were not brutal but noble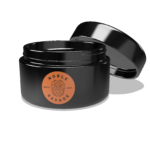 The logo is a geomtric design of a lion's head, a very recognisable and strong image that would depict the manly character of the product.
The product line would be different background colours as the design production for the packaging will set of with Cardone as a partner.